Jamaica cited for leading the region in Air Navigation Technology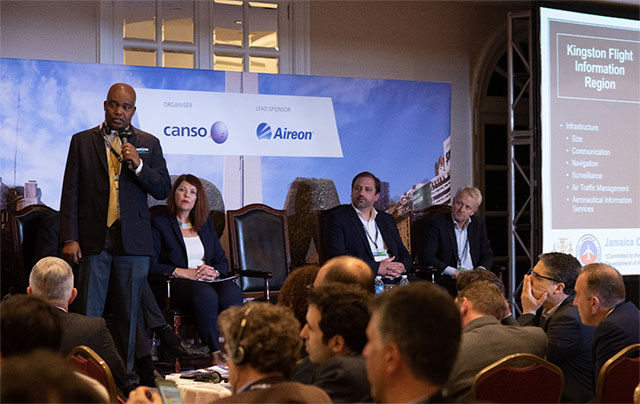 Aeronautical Telecommunications Ltd (AEROTEL's) General Manager Howard Armstrong was Jamaica's representative at the Civil Air Navigation Services Organisation (CANSO) Latin America and Caribbean conference in Buenos Aires, Argentina in November 2018. Jamaica was lauded as one of the countries whose example should be followed by others in the region. The observation was made by CANSO's Global Director General Jeff Poole in his opening remarks to the conference.
Mr Poole was specifically referring to Jamaica's recent investments and implementation projects for the most up-to-date Air Traffic Management systems worldwide. These have been deployed by the Jamaica Civil Aviation Authority (JCAA) at their headquarters as well as the Air Traffic Control Towers at NMIA and SIA airports in Kingston and Montego Bay, and RADAR sites in Kingston, Montego Bay and North Manchester. The implementations were all supported technically by AEROTEL which is a subsidiary of the JCAA
Armstrong delivered a presentation on "The future of Air Navigation Technologies" that was well received by the attendees who attended from all over the world, and especially from the Americas region. He spoke on the importance of a resilient underlying network infrastructure, and the benefits of remaining compliant with the Aviation System Block Upgrade programmed approach to technology evolution proposed by the International Civil Aviation Organisation ICAO). He opined that whilst such compliance is invariably a significant financial commitment, it is the best way to ensure that countries develop their air navigation infrastructure in a comprehensive and robust manner that is compatible with the latest aircraft and with management systems in other jurisdictions.
He further noted "This will be critical to ensure safety and thereby deliver the full benefits of aviation to the citizens of a country. Without these developments, lagging nations will soon find that they are unable to handle certain types of aircraft which will inhibit their incoming air traffic and hence the number of tourists and other visitors that such country can receive. The economic, social and other implications of such limitations could become very significant"
AEROTEL have been key technology partners to the aviation industry for over 40 years, providing ICT engineering and technical support services for the national Air Traffic Management (ATM) and communication, navigation and surveillance (CNS) systems. Their operations have ensured that clients including JCAA, Airports Authority of Jamaica, JDF, Meteorological Service, all the airlines, and others in the aviation sector have the availability of ICT systems and facilities necessary to ensure aviation efficiency and safety