AEROTEL Supports Air Traffic Control Centre Upgrade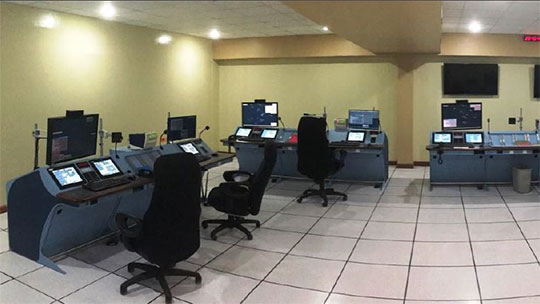 As part of the Jamaica Civil Aviation Authority's ongoing air navigation services modernisation programme, under which the infrastructure is being upgraded. The Kingston Air Traffic Control Centre (KATCC) at the JCAA Winchester Rd HQ, has recently been upgraded and completely new systems implemented and commissioned with the technical support of AEROTEL.
The KATCC provides overflight services for airplanes traversing Jamaica's airspace (officially called the Kingston Flight Information Region or FIR) without landing. The FIR that is controlled from the KATCC is many times larger than Jamaica's land mass, in a strategic central Caribbean location between North and South America. Jamaica therefore has a significant number of overflights. Air traffic controllers at the KATCC coordinate the movement of all aircraft throughout Jamaica's FIR and adjoining regions, ensuring safety by providing the appropriate direction to, and separation of all the traversing aircraft, which number more than 10,000 every month.
Also recently completed is the airport Air Traffic Control towers at Norman Manley and Sangster International Airports which deal with aircraft that land at and take off from Jamaica's airports. There has to be extensive coordination between the KATCC and both control towers so they are interconnected with special voice and data communication links. Further connecting to these air traffic control facilities, are three radar stations located at Norman Manley and Sangster International airports and Mount Denham in North Manchester. By virtue of these combined systems, all flights operating in the FIR are visible at KATCC and the Control Towers.
The JCAA acquired these advanced Air Traffi Management (ATM) systems from leading international manufacturer Thales. At Mount Denham site, Thales deployed a state-of-the-art L-Band Primary radar co-located with a Mode-S Secondary Radar Radar. The Kingston and Montego Bay sites feature one Mode-S secondary radar each. All radar sites link into KATCC, equipped with the Thales TopSky ATM system, said to be the most advanced air traffic management system in the world.
Complementing this primary equipment is the Thales SCANSIM Air Traffic Control Tower simulator for hands-on 'like-real' training of controllers as well as their full-service overflight simulator/training facility that is capable of controlling live traffic as part of the contingency or back-up arrangements in a separate building at the HQ. This facility proved its worth recently when a catastrophic lightning strike brought down the previous main system for several days before the new main system was ready to be commissioned. It enabled continuity of flight operations in the interim period until the new main system was ready
AEROTEL is responsible for primary technical support of the entire modernised environment, including these and many other facilities. Their work ensures that flights into, out of, and through Jamaica's airspace remains safe whilst delivering all the economic and social benefits of the aviation industry, including transporting the 1.5 million tourists that visit Jamaica by air each year.