Kool 97 FM launches transmission in St Thomas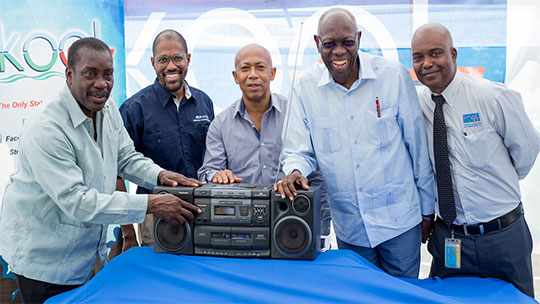 Minister of Transport, Robert Montague poses alongside (from left) Chairman of Aerotel, Marc Ramsay, Mayor of Montego Bay, Michael Hue, Member of Parliament for Eastern St Thomas, Dr Fenton Ferguson and General Manager of Kool 97 FM, Howard Armstrong.
Government-owned and operated free to air radio station Kool 97 FM has officially launched its 97.7 transmission frequency in St Thomas.
The radio station, which is a subsidiary of Aeronautical Telecommunications Limited (Aerotel) under the Ministry of Transport and Mining, considered its move to St Thomas a necessary one due to the parish – which is undergoing major infrastructure developments – being disaster prone.
In welcoming the move by the station, Morant Bay Mayor Michael Hue and Eastern St Thomas MP Dr Fenton Ferguson noted that the parish is in need of an option to disseminate information and to keep residents informed during times of natural disasters.
Transport Minister Robert Montague meanwhile urged stakeholders to seize the opportunity to partner with the station for preparation for impending disasters.